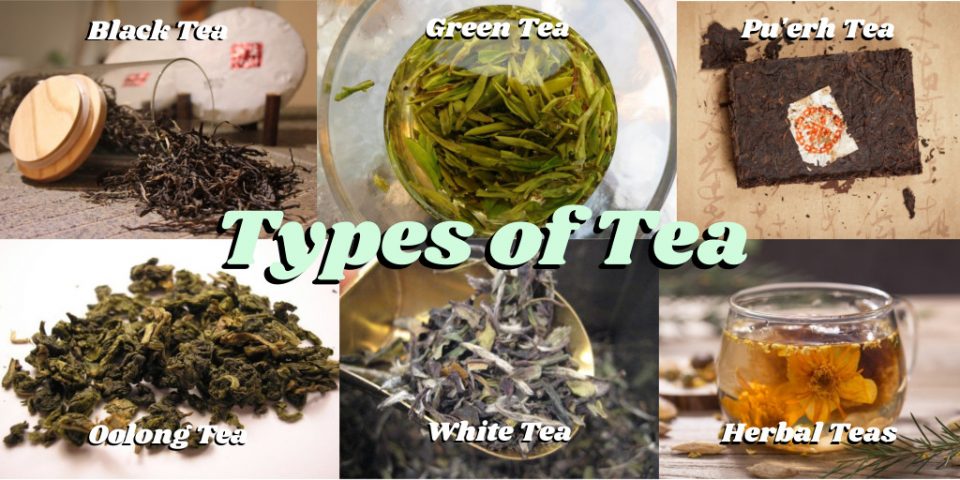 There are 5 popularly recognized types of tea. They are white, green, oolong, black, and pu'erh. There is also an informal category known as herbal tea.
Each of these 5 varieties start their life on the bush of the Camellia Sinensis plant, but they differ in the age of the leaves (young buds vs mature leaves), as well as the method of processing.
If you want to get started in the world of tea, this is the place to start.
Types of Tea
White Tea
White tea is a delicate tea that undergoes very little processing and oxidation. It consists of the young and generally unopened leaf buds on the tea plant. The name of white tea refers to the white down that appears on these young buds. The Chinese call this white down bai hao.
These young leaf buds only appear on the bush for several days out of the year. White tea is hand picked , withered, and dried in the sun to prevent oxidation. Some minimal oxidation does occur while it is drying.
White tea is mostly grown in the Fujian province and other parts of China. Several other countries including the Darjeeling region of India and parts of Sri Lanka have also begun cultivating white tea due to it's rising popularity.
White Tea Taste
The taste of white tea is subtle and delicate. It has a touch of fresh vegetation similar to wild grass, bamboo, or almonds. There is also a hint of floral sweetness.
When brewed, white tea has a pale green or yellow color.
Health Benefits of White Tea
Since white tea is unoxidized, it is full of many healthy antioxidants. The buds of white tea are made of nearly 20% catechins, which are a powerful antioxidant. These antioxidants help protect against free radicals that cause damage to the cells of our body. The antioxidants in white tea absorb free radicals and help prevent acne and slow the occurrence and growth of tumor cells.
The amount of caffeine in white tea varies depending on steep time and temperature of the water. If steeped with boiling water, white tea can have more caffeine than black tea. However, a lower temperature water is better suited for the delicate nature of white tea and this will result in around 15-30 mg of caffeine. This is about the same amount found in green tea.
Popular Varieties
Bai Hao Yin Zhen (Silver Needle) – Grown mostly in the Fujian province of China. Consists of white, downy buds.
Shoumei (Longevity Eyebrow) – Also grown in Fujian province in China. Consists of dried tips and upper leaf.
Bai Mudan (White Peony) – Grown in Fujian province of China. Mix of one leaf bud/shoot to every two immediately young leaves. Some prefer this over 

Bai Hao Yin Zhen

tea because of its fuller flavor and potency.
Green Tea
Green tea is an unoxidized tea that preserves the color of its leaves. Most green teas are grown in China, Japan, and Korea.
After being plucked, the leaves of green tea are withered for a short time and then quickly heated to stop oxidation. There are two methods by which green tea is heated. Most Chinese green teas are pan fried or roasted, whereas many Japanese green teas are steamed at high temperatures.
Green Tea Taste
Most green teas have a subtle and mellow flavor profile. Some are slightly sweet and smoky and have vanilla undertones while others are more savory and grassy with hints of citrus. The aroma is often grassy with nutty or woodsy smells.
The flavor of green tea also varies significantly depending on which method of heating is used. This is similar to how cooked vegetables taste different when they are steamed compared to when they are roasted or pan fried.
Chinese varieties are generally pan fried in a hot wok or roasted in a large rotating drum. Most tea factories use drums because it is cheaper but pan frying by hand will create a better tasting tea. Roasting breaks down parts of the leaves into sugars and other compounds and produces a sweet, nutty, and smoky flavor.
Japanese green teas are often steamed right after picking to fix the tea. After steaming they are rolled or pressed into different shapes and dried out. Steaming preserves the plant-like flavor of the leaves and these kinds of green teas taste similar to wild grass or straw.
Shade grown Japanese green teas will have an additional savory flavor that the Japanese refer to as Umami. Growing the leaves in the shade creates a higher amino acid content and results in this Umami taste. The combination of grassy and savory creates a taste similar to seaweed. Gyokuro and Matcha are both shade grown teas.
Health Benefits of Green Tea
Green tea has long been touted as the healthiest tea. The reason behind this is its high antioxidant content in the form of catechins. The most potent antioxidant in Green tea is a compound called Epigallocatechin gallate (say that 3 times fast), or EGCG for short. Green tea consists of around 25% catechins by weight.
The reason antioxidants are important for keeping us healthy is because they "scavenge" and neutralize compounds called free radicals.
Free radicals are produced as a result of metabolic processes within our body and are absorbed from the environment through cigarette smoke, pollution, radiation and other chemicals. These free radicals have unpaired electrons and want to bind to anything that will pair with this electron.
When a free radical binds to the tissues and DNA within a cell it impedes normal functionality and causes damage, sometimes in the form of cancer. Antioxidants on the other hand have electrons to spare and can easily bind to these free radicals, effectively neutralizing them.
Green tea has been shown to reduce the risk of various types of cancer1. Many studies have been done on the anti-cancer properties of tea, and there is evidence to suggest that tea consumption can reduce the risk of skin, breast, prostate2, esophageal, lung, ovarian3, and digestive system4 cancers.
In addition to antioxidants, the compounds within green tea have been shown to have a positive impact on heart health. Green tea aids in weight loss by increasing fat oxidation5. It may also reduce the risk of stroke6, and can help lower both LDL and overall cholesterol7.
Green tea also improves brain health and has demonstrated an effect in reducing cognitive decline8. In one cross-sectional study of elderly citizens, those who consumed 2 or more cups of green tea a day had a 54% lower rate of cognitive decline.
Despite all these benefits, tea cannot replace standard medical treatment. Always consult your doctor about any health concerns.
If you would like to learn more about the health benefits of tea, check out our Tea vs. Coffee article.
Popular Varieties
Longjing/Lung Ching (Dragon's Well) – Grown in the Zhenjiang province of China. Consists of mature tea leaves that have been pan roasted. Has a delicate flavor and sweet aroma.
Biluochun/Pi Lo Chun (Green snail spring – green color, resembles snail meat, and grows in spring) – Mountain grown tea from Jiangsu, China. Consists of younger tea leaves and buds. Strong floral aroma and fruity taste.
Anji Bai Cha (Anji white tea) – Grown in China in Anji county. It has a short harvest period and is rather rare and expensive.
Sencha – Grown throughout Japan and represents 80% of tea grown in the country. Consists of mature tea leaves that have been steamed. Strong aroma and flavor of wild grass.
Houjicha – Japanese grown green tea that is traditionally roasted in a porcelain pot over a fire. This roasting turns the leaves a reddish-brown color and removes caffeine and catechins and results in a mild tea with a roasted flavor and hints of caramel.
Genmaicha – A mix of Japanese green tea and roasted brown rice. The rice gives this tea a much more whole-bodied and nuttier flavor.
Gyokuro – Grown in various parts of Japan. Starts its life in the sun but is covered in shade for the last 20-30 days before harvest. This shading gives this tea a deep green color and results in amino acids like theanine that give it a deeply savory taste. Consists of mature leaves that have been steamed. Check out our review of Gyokuro here to learn more.
Matcha – Similar to Gyokuro in growth and processing but once the leaves have been dried they are ground into a fine powder. This powder is then whisked into hot water until it begins to froth. Since you are consuming the leaf itself, this tea has the highest levels of antioxidants of any tea and higher caffeine content than any other green tea.
Oolong Tea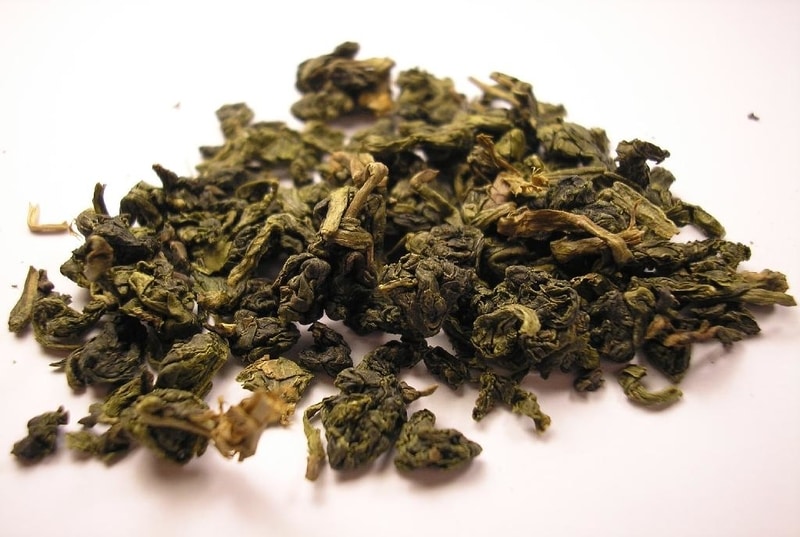 Oolong tea is a partially oxidized tea that has a wide range of flavors and aromas. It is sometimes referred to as Wu Long which means black dragon in Chinese. Oolong tea is grown in both mainland China and in Taiwan.
Oolong tea is created by harvesting mature tea leaves. The leaves are withered, rolled into balls and oxidized (sometimes repeatedly), and finally fired to fix them into their final shape. Depending on the preferences of a specific tea estate, oolong tea can range in oxidation from 10-90%. This puts it somewhere between green and black tea.
Oolong Tea Taste
Oolong tea has the widest range of aromas and flavors. In general, it has an aroma and taste similar to fresh fruit, sweet wildflowers, or raw honey. There are also hints of wood, vanilla, and other earthy tones.
This tea is good for several steeps especially if brewing Gong Fu style. It is great for both those new to tea because of its sweet taste and minimal bitterness as well as seasoned veterans of tea for its complex flavors and aromas.
Health Benefits of Oolong Tea
There are a range of polyphenols in oolong tea including catechins, thearubigins and theaflavins. Some of these have antioxidant properties that help protect against cell damage and certain types of cancer. Oolong tea has more antioxidants than black tea but less than green tea.
An additional property of the polyphenols in oolong are their ability to aid in weight loss. These compounds activate enzymes responsible for dissolving triglycerides and increase fat metabolism9. Oolong tea may also help to lower cholesterol by similar mechanisms.
The caffeine content of an oolong tea depends on its level of oxidation and is somewhere between green and black tea.
Popular Varieties
Tieguanyin/Ti Kuan Yin (Iron Goddess) – Chinese oolong grown in Anxi county in Fujian Province. Named after Chinese goddess of mercy. Floral aroma and flavor with a creamy feel.
Alishan High Mountain Tea – A high mountain oolong tea grown in the central mountains of Taiwan. The altitude slows the growth of the tea and results in a deep flavor that is prized by oolong enthusiasts. To learn more, check out our article on Alishan tea.
Da Hong Pao (Big Red Robe) – A heavily oxidized Oolong tea grown in the Wuyi mountains of China's Fujian province. The terrain of the Wuyi mountains is rocky and high in minerals. Tea grows slowly here and takes on the high mineral content of the soil. For this reason, these teas are often called Wuyi rock teas and can be enormously expensive. Certain varieties of Da Hong Pao, harvested from tea bushes that have been there since the Song dynasty (960-1279 AD), are among the most expensive teas in the world and are worth more than gold by weight.
Dong Ding/Tung-Ting (Frozen Summit) – Another high mountain oolong grown in the Dong Ding mountain region of Taiwan. The tea plant grown here was brought from the Wuyi region of China roughly 150 years ago.
Pouchong – A lightly oxidized oolong that is grown in China and Taiwan. Pouchong is usually dried instead of roasted and has a mild and floral taste often closer to green tea than oolong tea.
Black Tea
Black tea is the most popular variety of tea in the west because of its high caffeine content and strong flavor. Black tea is grown all over the world but mainly in India, China, and Sri Lanka.
Several regions in India are famous for their black teas. Teas grown in Assam, Darjeeling, and Nilgiri are the most popular and each have unique characteristics.
China also has several popular varieties. The Chinese refer to black tea as red tea, or hong cha, because of the reddish color of brewed black tea.
To produce black tea, leaves are picked and allowed to wither. Then they are rolled to break down the tissues of the leaf and expose more of the leaf to oxygen. Once the leaf is fully oxidized it is fired or roasted. When black tea is finished processing, the leaves have a black or dark-brown color.
Black tea grown in individual tea estates around the world is particularly trendy these days. These estates are small tea gardens that try to capture the unique qualities of tea grown in that specific region's climate and soil. The quality each year can vary drastically but some estates hit the jackpot, with their tea selling for thousands of dollars per pound.
Black Tea Taste
Black tea has the strongest taste of any variety of tea. It has a robust and earthy aroma with notes of chocolate.
Sometimes the strong flavor of black tea is accompanied by bitterness. This is why many people enjoy their black tea with milk and sugar. Black tea also pairs well with sweet and creamy foods because they offset the bitterness.
Health Benefits of Black Tea
Black tea contains the most caffeine of any tea and is equal to about half a cup of coffee. Caffeine has been shown to reduce the risk of Alzheimer's and Dementia if consumed regularly10.
Besides caffeine, black tea is rick in polyphenols that have antiviral and antibacterial properties. These polyphenols help prevent tooth decay and also help boost heart health. Black tea has been shown to decrease triglyceride content and overall cholesterol levels, as well as lower fasting blood glucose levels11.
And while the antioxidant content in black tea is lower than green tea, it still may help protect against certain types of cancer. In one animal study12, black tea was shown to decrease lung damage induced by cigarette smoke.
Popular Varieties
Darjeeling Tea – Grown in the Darjeeling district of West Bengal, India. Darjeeling tea actually consists of several varieties: black, green, white, and oolong. Darjeeling black tea is smoky and floral with hints of chocolate.
Assam Tea – Grown in the Assam region of India. This tea has a bold flavor and is used primarily as a breakfast tea.
Nilgiri Tea (Blue Mountain Tea) – Grown in the Western Ghats mountains of Southern India. Nilgiri tea is heavily fragrant and has a smooth flavor.
Ceylon Tea – The country of Sri Lanka used to be named Ceylon and Ceylon tea refers to tea grown here. While Sri Lanka produces some other kinds of tea, most Ceylon tea is black tea. A traditional Ceylon tea will have a brisk flavor with hints of chocolate and citrus.
Lapsang Souchong (Smoked tea) – Grown in Yunnan province of China. Traditionally smoke dried over a pinewood fire, giving it a smoky taste and smell.

Jin Jun Mei (Beautiful Golden Eyebrow) – a premium Lapsang Souchong made from tiny shoots plucked in early spring.

Keemun – Chinese black tea grown exclusively in Qimen County of Huangshan City in Anhui province. Keemun is a lighter black tea with slightly sweet flavor and smoky notes.
Golden Money Tea/Jin Hou – Grown in Fujian and Yunnan provinces in China. Consists of a bud and first leaf in equal ratios and has the appearance of a jumble of golden and black threads. Golden Monkey tea is light and fruity with little bitterness.
Dian hong/Dianhong (Yunnan Tea) – Chinese black tea grown in Yunnan province. This is a premium tea consisting of fine leaf buds, often referred to as golden tips. This tea has a sweet and gentle taste with little bitterness.
Black Tea Blends – black tea is a common ingredient to use in different blends.

Chai Tea/Masala Chai/Spiced Tea – Consists of black tea mixed with warm spices like cardamom, vanilla, cinnamon, and chocolate beans. Once brewed, milk or cream and some kind of sweetener is added. Popular in India.
Earl Grey – Famous British blend of black tea and the oil of a citrus fruit similar to the orange called Bergamot. This oil gives Earl Grey it's signature punch. Different varieties may also contain various flowers and herbs.
Pu-erh Tea
Pu-erh is a fermented tea and is sometimes referred to as Pu'er, or Puer. This tea is grown and produced in the Yunnan province of China. It shares its name with a town in the region called Pu'er.
There are a number of other fermented teas, also known as dark teas, but Pu-erh is by far the most famous fermented tea.
Before pu-erh tea is fermented it is processed in a way similar to green tea. Large tea leaves are withered and then lightly dry roasted. Then, pu-erh is compressed into large bricks or cakes the size and shape of a flattened coconut. Oxidation occurs as the tea ferments over a period of months or years.
Pu-erh is fermented in the traditional sense of probiotic fermentation, similar to the way wine and yogurt are fermented. There are two ways pu-erh is fermented.
The first is called raw fermentation. The natural bacteria and fungus in the tea are allowed to age the tea. Raw pu-erh can take several years to reach an optimal flavor profile.
The second is known as ripe fermentation. This method involves adding microbial cultures and keeping the tea in an artificially hot and moist environment. These steps quicken the fermentation process and allow ripe pu-erh to reach perfection much faster than raw pu-erh.
Pu-erh Tea Taste
Pu-erh tea has a smooth flavor with a dark woodsy taste and a slight sweetness. Pu-erh may also have notes of coffee or chocolate.
The aging process can considerably change the flavor profile of a tea, and pu-erh shares little resemblance with other types of tea. Pu-erh lacks the bitter astringency of most teas because many of the catechin compounds have been broken down.
Lower quality pu-erhs that have been spoiled or aged improperly may smell and taste moldy, muddy, or bitter.
The dark and hearty characteristics of pu-erh combined with its lack of bitterness makes it a prized variety among tea connoisseurs. There are many rare batches that sell for thousands of dollars per pound.
Health Benefits of Pu-erh Tea
Pu'erh has long been used as a digestive aid in Chinese culture. This could be due to the probiotic nature of the tea. It has been well established in the medical community that consuming healthy bacterial cultures helps modulate the immune system and decreases inflammation 13. However, there are few studies that examine the probiotic nature of pu-erh tea and its benefits are anecdotal.
Another of the anecdotal claims of pu'erh is its ability to lower alcohol in the bloodstream and cure hangovers. There is little evidence to support this claim and not even a viable mechanism to explain how it would work. That being said, it can't really hurt to try if you have some pu'erh lying around after a night of drinking.
While pu'erh does contain a lower concentration of polyphenols than other types of tea, their benefits still carry over to pu'erh. There are a number of antioxidants within pu'erh tea that help eliminate free radicals. It has also been shown to lower LDL cholesterol in animal models14.
Contrary to assumption, pu'erh tea contains the same amount of caffeine as other teas. Caffeine is a relatively stable compound and doesn't break down during fermentation. Hojo tea has an article here that goes into the science.
Popular Varieties
Pu'erh is just one of many different types of fermented teas. The Chinese call fermented tea either black tea or dark tea (not to be confused with western black tea, which the Chinese call red tea). All other dark teas are less known and hard to find. Check out the Wikipedia article on Fermented Tea to see a list of each variety.
Each batch of pu-erh is different depending on the type of tea used and the microbial composition after fermentation. Things such as the method of fermentation and the age of a batch of pu-erh affect this microbial composition.
It can be fun to experiment with different varieties and types since each one will be unique. One thing to note when preparing pu'erh tea is that the first steep can contain high levels of harmful fungal and bacterial metabolites. Either discard the first steep or rinse pu'erh with hot water before enjoying.
Herbal Teas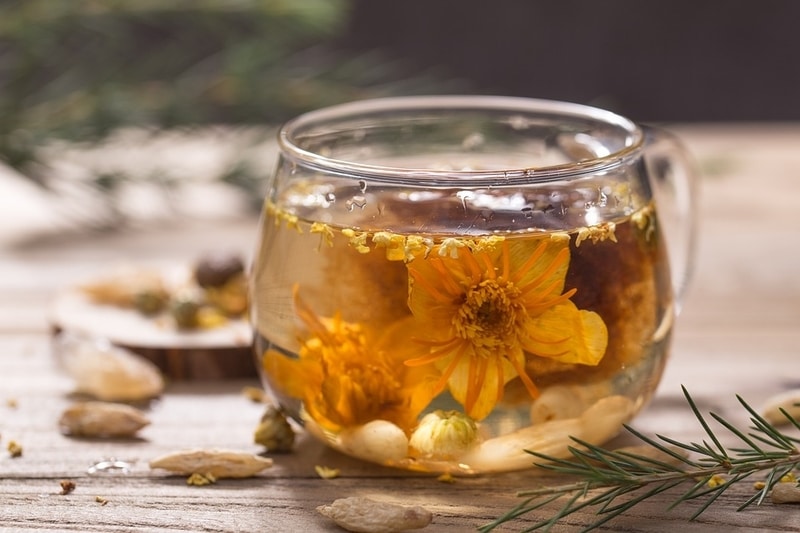 Herbal teas are not true varieties of tea because they do not come from the camellia sinensis plant. Instead, herbal teas are infusions or tisanes of different plants and herbs.
Each herbal tea is slightly different and has its own properties. But most herbals are low in caffeine and have a gentle flavor that is not as bitter as tea.
Popular Varieties
Yerba Mate – A holly plant grown in South America. The leaves and twigs are ground into a powder that is used for infusions. Yerba mate tea contains a unique blend of caffeine and alkaloids that provides a much more gradual caffeine high and comedown. This is currently my daily morning tea.
Rooibos (Red Bush) – A green and red bush that grows in South Africa. The leaves are a bright red color and are used to make infusions. Rooibos contains no caffeine and has a full bodied taste that is comparable to tobacco. Rooibos tea is often flavored with various fruity flavors and spices.
Chamomile – A daisy-like flower that grows throughout Europe. The dried flower is crushed and used for infusions. Chamomile tea has a light and fruity taste comparable to apple cider. It is caffeine free but contains a compound called apigenin that has mild anti-anxiety effects. I covered the stress-relieving qualities of Chamomile tea in our Best Teas for Anxiety and Stress Relief article.
Hibiscus – A type of mallow flower that grows in warmer regions throughout the world. The tea is made from infusing deep crimson colored sepals (the leaves directly below the flower) of the Hibiscus flower. The infusion has an intense red color and has a characteristic sweet but tart flavor.
Ginger – A flowering plant native to Asia. The roots of this plant are what is used for cooking and tea infusions. Ginger and ginger tea have a pungent and hot (not spicy) taste and flavor. Ginger tea has been used throughout Asia as an herbal remedy for thousands of years.
Peppermint – A leafy mint plant native to Europe and the Middle east. Peppermint is a cross between watermint and spearmint. The leaves are used to make tea infusions. Peppermint tea can be good for settling the stomach and easing muscle aches.
Echinacea – A flowering plant in the daisy family that grows only in eastern and central North America. The flower and other parts of the plant are used to make infusions. Echinacea tea is commonly used to treat the common cold, but the scientific evidence is inconsistent15.
Lemongrass – A type of wild grass cultivated in Asia, Africa, and Australia. The leaves have a lemon scent and can be used to make infusions. Lemongrass tea is a refreshing drink and possesses anti-fungal properties16.
Kava – A flowerless green-leafed bush native to Oceania and the South Pacific islands. The roots of the plant are shredded and used to make infusions. Kava tea is taken primarily for its potent anti-anxiety effects17. There has been concern in the past that Kava may be toxic to the liver. However, the World Health Organization published a comprehensive review in 2016 on the safety of Kava and it was concluded that Kava is safe to consume for healthy adults18. You can read more about the anxiety-reducing effects of Kava in our Best Teas for Anxiety and Stress Relief article.
Other varieties: Lavender, Passion Flower, Lemon Balm, Peppermint, Sassafras, Arnica, Fennel, Catnip, Sage, Artichoke, Mushroom, and many others. Check out The Right Tea for an extensive list of articles on each type of herbal tea and their benefits.
Less Recognized Varieties
Yellow tea (huangcha)
Yellow tea, or huangcha in Chinese, is a unique and expensive tea that lies somewhere between white and green tea.
The cultivation and processing of yellow tea are similar to green tea, except that it undergoes an extra step after roasting or steaming. This extra step involves wrapping the tea and steaming it at high temperatures to slow oxidation. When finished, the tea leaves take on a yellowish color.
This extra step removes the grassy flavor common in green teas and gives yellow tea a mellow and flowery taste. Despite the smoother flavor, yellow tea preserves the health benefits of green tea.
Kombucha
Unlike Pu'erh where the leaves themselves are fermented, kombucha is fermented after the tea is brewed. To make kombucha, black or green tea is combined with sugar and a dough-like clump of yeast and bacterial cultures (called a SCOBY) and allowed to ferment. The caffeine from tea and the added sugars provide an ideal environment for the SCOBY to thrive.
Kombucha has a pungent sour flavor that can be an acquired taste. Just like other fermented foods, kombucha is probiotic and can help provide balance to the gut microbiome.
Major Differences Between Tea Types
Camellia Sinensis
All formal tea types come from the leaves of the Camellia Sinensis plant. There are two major sub-varieties of this plant. The first is called Camellia Sinensis Sinensis and is native to China. The second sub-variety is Camellia Sinensis Assamica. This variety is native to the Assam region of India and is used mostly for black teas. This variety is also grown in the Yunnan province of China to make Pu'erh tea.
Some tea estates selectively breed these two major strains to create what is called a cultivar. These cultivars are a slightly altered variation of the Camellia Sinensis  plant and becomes signature to that tea estate.
You can read more about the different varieties of Camellia Sinensis over at TeaClass.
Oxidation
The most important difference between the way each type of tea is processed is a step called oxidation. Oxidation occurs when enzymes within the tea leaf are exposed to oxygen. This causes the leaf to brown over time. It is the same process that happens when you bite into an apple and leave it for half an hour.
White and green teas are the least oxidized and black tea is the most oxidized. Oolong tea is somewhere in between green and black. And pu'erh can vary depending on the variety.
During the oxidation phase, compounds known as polyphenols within the tea leaf break down into new compounds called theaflavins and thearubigins. These new compounds introduce strong flavors to the tea. More oxidized teas have an earthier and deeper flavor. Think of the pungent taste and savory aroma of a hearty black tea.
Less oxidized teas have more subtle and delicate flavor. They have high concentrations of polyphenols which can bring out a bitter taste if the tea is brewed for too long or at too high of a temperature. This is why green teas are usually brewed at much lower temperatures.
Processing
Besides oxidation, there are several processing steps that most tea types go through. The leaves are plucked, withered, rolled, oxidized, and fired/steamed. The order and duration of these steps depends on the tea type.
Withering and rolling breaks the walls of the tea leaf down so that more of the leaf is exposed to oxygen. Firing or steaming is the last step in the process and it "fixes" the tea leaf by stopping enzyme activity and thereby halting the oxidation process.
Fermentation
Pu'erh tea undergoes a special processing step that none of the others do. This fermentation process is similar to what happens to yogurt or kimchi.
After regular processing the leaves are tightly packed into cakes the size and shape of a flattened coconut. Then they are packed away to ferment on their own over a period of several years.
Some pu'erh factories accelerate this process by keeping the tea cakes in a hot and humid environment and introducing their own strains of microflora.
Climate
Beyond processing, variations in climate, weather, and soil can create vastly different flavors within each of the 5 different categories of tea. Harvests of the same cultivar from the same tea estate can vary greatly from year to year.
Return to Types of Tea up above or check out our guide for brewing the perfect cup of tea.
References