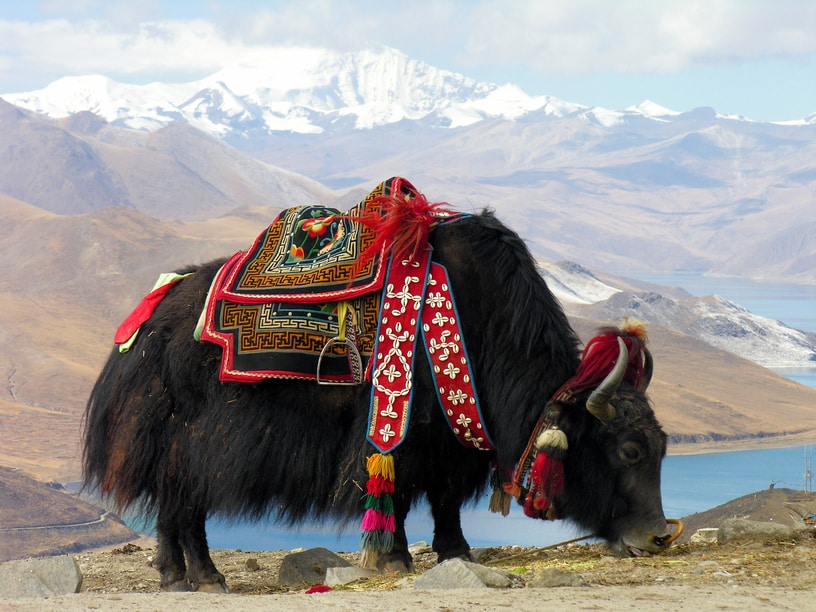 Butter tea, or po cha, is considered by many the national drink of Tibet. This unique combination of black tea, yak butter, and salt give it a flavor that is closer to a soup than tea.
Origin
Butter tea is a drink that is common among the high-altitude regions of the Himalayas. It was invented sometime around the 7th century during the Tang Dynasty of China. The princess of China at the time married the king of Tibet. Soon after, trade routes were established that brought tea from China into Tibet. Tibetans use yak butter for a number of purposes so it is not surprising that it ended up being added to tea.
Over time the drink spread throughout the Himalayas. Different regions adopted slightly different ways of making the tea. The Sherpas of Nepal have their own variation known as sherpa tea.
Healthy Fats
This hot combination of tea and butter offers some unique properties that make it especially appealing if you are in the cold climate and high altitude of the Himalayas. Working at that altitude the human body burns plenty of calories and the calorically dense butter can be a great source of energy. In fact, many Tibetans enjoy a cup of butter tea every morning for breakfast.
The keto and paleo communities have recently picked up on this trend of consuming healthy fats as well. In fact, the idea for bulletproof coffee was conceived when its founder visited the high altitudes of the Himalayas and was offered a cup of butter tea. He felt instantly revitalized and decided to try replacing the tea part of butter tea with coffee.
The health and weight loss claims of bulletproof coffee are in some ways exaggerated, but it's true that consuming certain healthy fats is critical to maintaining a healthy body. Yak butter consists of about 80% fat, 2.5% of which is linoleic acid conjugates. Some of these compounds help with bone mineralization and help protect against diabetes. However, if you aren't used to consuming much fat in your diet, a cup of butter tea will likely result in a trip to the bathroom.
Another benefit of the drink is the combination of salt and water that help keep the body hydrated. The body loses water much faster at high altitudes than at sea level, so drinking water is critical. But if you drink just water your body will dispense of it. This is why the salt & water combo of Tibetan tea is perfect.
Ingredients
Butter tea consists of primarily black tea, yak butter, and salt. Yak milk is generally added as well and is sometimes used instead of yak butter. Depending on the region of Tibet you are in, varying amounts of salt and sugar are added.
Yak Butter
Yaks are indigenous to the region of Tibet and have lived there for thousands of years. They are particularly well suited to the rugged terrain and high altitude and serve a critical function in the diet of the Tibetan people. The yaks are milked during the late summer months. Some of that milk is churned into butter and saved for winter and the rest of the year.
Female yaks known locally as dri are said to produce the best butter for butter tea. Unfortunately if you live outside of the Himalayan region, yak butter is especially difficult to procure. Acceptable substitutes include grass fed cow butter or ghee. You could also try goat or sheep butter which is said to be closer in taste to yak butter.
Black Tea
Native Tibetans traditionally use either black tea grown in the Pemagul region of Tibet or Chinese grown Pu-erh for the tea component of Tibetan tea. Chunks are pulled off of tea bricks and are boiled for several hours until the water takes on a dark brown color. Darker teas such as black, pu-erh, and oolongs are much more suited for this intense brewing process than lighter teas. Boiling a green tea for this long would result in an incredibly bitter concoction.
Salt & Sugar
Salt and sugar are added to butter tea in varying amounts depending on the region of Tibet you're in. Poorer regions of Tibet such as the Amdo region use much more salt than anyone else and often use milk as a substitute for butter. The locals claim that salt helps keep you warm while working in the cold altitude of Tibet. Other regions such as Ü-Tsang enjoys a very sweet milk tea with plenty of added sugar.
Tsampa
Po cha is frequently enjoyed with a serving of Tsampa. This food staple consists of roasted barley flour and is high and nutrients and fiber. The flour is either packed into balls, made into bread, or enjoyed as a porridge. Occasionally milk curds are added to the mix.
Preparation
The first step of making butter tea is to boil black tea. In Tibet, this process often takes several hours or even up to half a day. This results in a very dark and concentrated tea called chaku. This chaku can be saved for up to several days and reheated on demand to avoid having to make it every day.
The next step is to combine the tea concentrate with butter, milk, and salt. Traditionally this process involves adding the ingredients to a long wooden churn called a cha dong and churning the mixture for several minutes. The longer the churn, the better. The purpose of this step is to emulsify the fats.
Few Tibetans still use a churn to prepare butter tea. The best modern alternative is the electric blender. I have a Vitamix that I use for just about anything that can be blended, but if you're looking for a cheaper option check out the Ninja personal blender. Buying through those links helps support the site. If no blender is available you can either whisk the tea or add the mixture to a large container and shake vigorously for several minutes.
Ingredients (per 8 oz/200 ml):
1 tbsp. black tea or 3 black tea bags
1 tbsp. butter (yak butter if available, otherwise grass fed cow butter or ghee)
1/4 cup whole fat milk or 1/6 cup half and half
1/4 tsp. salt
(optional) 1/2 tsp. sugar
Recipe:
Boil water on a pot on the stove top. Use about 1.5 times the amount of water you will be drinking because some of it will boil off.
Once the water is boiling, add 1 tbsp. of black tea per cup of butter tea. Keep the water boiling and let the black tea steep for 10 minutes.
Add 1 tbsp. of butter for every cup of tea you want to prepare.
Add 1/4 cup of whole milk or 1/6 cup of half & half.
Stir ingredients together into yellowish light brown mixture and strain off into blender or bowl.
Blend or mix for 3 minutes.
Once complete, the tea should be creamy with the consistency of stew and have a light froth over the top. Your tea is now ready to drink.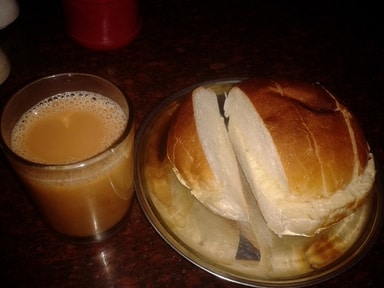 Taste
Be prepared to be surprised with the flavor of this tea. It can help to think of the tea as more of a light soup than a tea. It has a very salty and very buttery taste. The butter is so strong that it can be hard to taste the tea at all. The first time I tried it I expected something much more creamy and sweet. Maybe if you add enough sugar you get that kind of flavor.
This tea is best enjoyed on a cold, snowy day and can be a comforting alternative to hot chocolate. Drink it while it's hot and try to avoid reheating once it has been blended. It is said to lose its taste if reboiled.
Cookies
Unless you live on or near the Himalayas, it is unlikely you have tsampa (roasted barley flour) sitting around. Some Western alternatives are oatmeal, crackers, and cookies. I think tim tams would be a great choice for this tea but unfortunately don't have any available to try. If you do try this I'd love to hear from you about how it goes.