What better luxury than having your tea brew itself? I did some research to find the best tea makers on the market.
If you don't care for the details, the best tea maker for most people is the Breville One-Touch Tea Maker. Our budget pick is the Black Teavana Perfectea Maker. And if you are worried about any kind of plastic or silicone in the brewing area, check out the Gourmia GDK290.
To see all the tea makers I reviewed, jump down to the comparison table.
The types of tea makers I will be covering are hot tea makers that make it easy to brew several cups of tea at once. Most of them will heat the water for you and some will even brew the leaves on a timer.
Many of these machines can also be used to make iced tea, but I won't be explicitly covering any iced tea makers.
Best Tea Maker Comparison Table
Best Pick: Breville BTM800XL One-Touch Tea Maker
Summary
If you want a tea maker that makes brewing tea as easy as brewing coffee, the Breville One-Touch Tea Maker is the way to go. It is hands-down the best tea maker on the market at this point in time.
The Breville is highly programmable. The temperature control has modes for both Fahrenheit and Celsius and can be adjusted in 5° intervals. Steep time can also be adjusted in 30 second increments up to 10 minutes. These precise controls allow you to brew the perfect cup of tea every time.
All you have to worry about is how much tea and water to add. The rest is automatic – even the steeping. Once you add your tea to the basket and attach it to the carafe magnetically, it automatically moves down into the water for the steeping duration. You can also optionally have it move up and down non-stop to help agitate the leaves.
Making tea with the Breville is so automated that they even built an auto-start feature. You simply add your water and tea the night before, set an alarm, and the Breville will have a fresh cup of tea ready to go right when you wake up.
Besides working as an automatic tea maker, the Breville One-Touch also functions as an electric kettle. It heats water quickly and is great for instant noodles, oatmeal, hot chocolate, and anything else that requires hot water.
While not it's intended purpose, this tea maker can also be used to make both pour-over coffee and iced tea.
When it comes time to clean the unit, each part comes off easily and is easy to wash. The brewing basket can be put in the dishwasher but it is best to hand-wash the glass carafe.
Most units will last years and several of the reviewers on Amazon had owned their Breville for upwards of 5 years. Like almost anything, there is a chance for the machine to break after several months. A warranty is offered if you are worried about this. And in the rare case that your unit is dead-on-arrival, Breville will gladly replace it.
Downsides
The biggest downside with this tea maker is the steep price tag. You are paying for what you get here, but I don't think it is a bad value. If you want all the bells and whistles, this machine has them.
Another potential disadvantage is the BPA-free plastic in the brewing area. While this type of plastic is much better than regular cheap plastic, it can't be good to boil.
Unfortunately, nearly every tea maker unit available today has some amount of plastic exposed in the brewing area. If you manufacture tea makers, there is a major market opportunity here.
A notable exception to this is the Gourmia GDK290. Their customer service team has confirmed that no plastic pieces come in contact with water.
These types of tea makers also aren't really meant to make a single cup. The minimum capacity for this tea maker is 0.5 liters, or 17 oz. That will make you 2 mugs/3 teacups worth of tea.
This could be a benefit, depending on how much tea you drink. The carafe can be filled up to 1.5L, but beyond 1.2L the tea basket will be completely submerged.
If you are interested in brewing a single cup, a better option is a tea infuser mug. I recently wrote a review of the Best Tea Infuser Mugs that will give you more info.
Conclusion
I chose the Breville as the best tea maker because it really has it all. There is no aspect where it is significantly lacking and it is one of the only machines that is completely automated.
This tea maker is absolutely worth it if you make tea every day. It can be seen as equivalent to a nice coffee machine.
Video
---
Budget Pick: Black Teavana Perfectea Maker
Summary
The Black Teavana Perfectea Maker is both affordable and fun to use. It is made of BPA-free plastic and is much faster and easier to use than a teapot.
To work the device, you simply add hot water and loose leaves to the main chamber. When they are finished brewing, you lift up the Teavana tea maker and gently press the bottom up against the rim of your tea mug.
Pressing the bottom plate opens up a mechanism that allows your tea to flow down through the metal strainer into your tea mug. This metal mesh does a good job of catching smaller particles.
The device also comes with a drip tray so you don't have tea dripping everywhere.
One of the great things about the Teavana Perfectea Maker is how much room it gives the tea leaves to brew. They have plenty of space to unfurl, expand, and circulate, which is important for bringing out the flavors of the leaf.
If you want to ensure you are making the best tasting cup of tea, the leaves need to be steeped for the correct amount of time and at the correct temperature. Controlling time and temperature brings out the best flavors while keeping bitterness to a minimum.
Time can be controlled with a kitchen timer.
Heat is a bit more difficult to account for. If you have a higher end electric kettle, they will heat your water to a specified temperature.
If you are using a stove-top kettle, you can use something like a food thermometer to account for the temperature of the water.
Each type of tea has it's own optimal brew time and temp. Check out the image below to see the details for each tea type.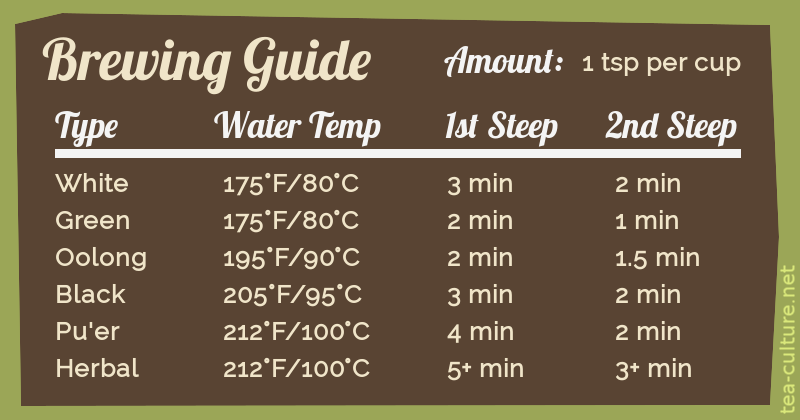 To get more brewing tips, I have a tea guide entitled How to Brew Tea in 5 Easy Steps.
When you are finished, the Teavana tea maker is easy to clean. A simple rinse will clear most of the tea and gently scrubbing the sides and mesh should take care of the rest. The metal mesh can be removed if necessary, but is somewhat hard to get out.
Downsides
Because this tea maker is not as expensive as some of the other options on this list, it doesn't come with all the bells and whistles you might find on higher end models.
For starters, it doesn't heat water. You must own a separate kettle. A stove-top kettle will do, but I highly recommend getting an electric kettle such as the Bonavita goose-neck electric kettle with 1°F variable temperature control.
This tea maker is also made of BPA-free plastic. Each time you brew, that plastic is coming in contact with hot water. The only electric tea maker that doesn't have plastic in contact with hot water is the Gourmia GDK290.
The other option for brewing completely plastic free is a traditional ceramic or glass teapot.
Another downside of it being made of plastic is that it is not super durable. The lid can break off easily and the device may begin to leak if you drop it on a hard surface.
Just a word of caution, be careful to avoid activating the bottom mechanism when the tea maker is filled with hot water. Keep it on a flat surface until you are ready to empty it.
Conclusion
I picked the Teavana Perfectea Maker as the budget pick because there is nothing cheaper that delivers the same ease of use. You could probably find a ceramic teapot for 5 or 10 bucks at the flea market, but it will be tedious and boring to use.
There are similar devices on the market such as the Adagio ingenuiTEA Bottom-Dispensing Teapot. I chose the Teavana because some customers who owned the ingenuiTEA had issues with the filter floating up to the top.
Both are great devices and work very similarly, but I reviewed only one to avoid redundancy.
This tea maker is also a great gift for a tea lover. You can gift it for weddings, as a housewarming present, or for birthdays or holidays. There are even a number of color customization options available.
Video
---
Who Should Get a Tea Maker
You should consider getting an electric tea maker if you drink multiple cups of tea throughout the day.
Other brewing solutions can be annoying to deal with after a while. Here are a few alternatives:
individual strainers & meshes
tea infuser mugs
traditional teapots
portable tea infuser bottles
french press
Each of these solutions requires a separate kettle. In addition, individual strainers and infuser mugs only brew a single cup of tea.
Tea makers are the easiest way to make the most amount of tea. Here are some of the benefits of an electric tea maker:
Programmable temp and steep time, making the perfect cup of tea ever time
Some brew the tea for you
No need for electric kettle
Brews more than one cup
Some can be set on an alarm clock. Your tea will begin brewing before you wake up.
Eliminate the need for a separate electric kettle
If you're still interested in getting a tea infuser mug or portable tea infuser bottle, I've written product reviews for both. Check out Best Tea Infuser Mugs or The Best Portable Tea Infuser Bottles.
You should probably not get a tea maker if you only ever drink one cup of tea every day. There are some exceptions. The Teavana PerfecTea maker that I selected as the budget pick can brew a single cup of tea.
Hot Tea Makers vs Iced Tea Makers
Both hot tea makers and iced tea makers brew tea with hot water to maximize the infusion. However, the brewing mechanism between hot tea makers and iced tea makers is slightly different.
Iced tea makers work like coffee percolators. Hot water drips over a basin containing tea and trickles down into an ice filled pitcher. Making iced tea like this requires a lot of ice.
You can use either tea bags or loose leaf tea inside a coffee filter.
An iced tea maker could potentially be used to make hot tea, but it wouldn't be very good. Iced tea makers are meant to make large quantities of lower quality tea.
Conversely, hot tea makers are meant for making mid-grade or premium loose leaf tea, but tea bags can still be used.
This is because hot tea makers give you fine control over brew time and temperature so you can maximize the flavor potential of your leaves.
Types of Tea Makers
Electric Tea Makers
This article covers mostly this type of tea maker. They are highly programmable and contain many features that make the whole process of brewing tea very simple.
A major benefit of electric tea makers is that you can have them auto-start at a pre-defined time. All you have to do is load the tea and water the night before and you will have a hot cup of tea ready for you as soon as you wake up.
Electric Kettle
An electric kettle alone isn't enough to make tea. I included it here because some tea makers require a separate kettle.
Certain electric kettles simply bring your water to a boil. Others have certain temperature presets. Still others allow you to specify a specific temperature.
If you are considering buying an electric kettle for the purpose of brewing tea, I suggest getting the Bonavita gooseneck kettle with variable temperature control. It allows you to specify the temperature to within 1° Fahrenheit.
Electric Kettle with Infuser
These will heat the water, but won't steep your tea. You must insert the tea infuser when the water is hot enough and pull it out when it is done steeping.
Teapot
Teapots are the tried-and-true method of brewing tea. Tea leaves are either filtered through a basket that sits in the middle of the pot or filtered as the tea is poured by small holes in the spout.
There are also a number of materials that teapots are made out of. The main two are glass and ceramic. Ceramic is cheaper and more sturdy, while glass allows you to watch the tea as it brews.
French Press
The french press is traditionally used to brew coffee, but it can be used for tea as well.
To brew tea in a french press, pull the strainer plate up, fill the bottom with your tea, and pour hot water in. Keep the plate extended until you are done brewing and then gently press it down.
The tea is now ready and it's recommended to pour it off into another container right away to avoid further brewing. For subsequent infusions, lift the strainer plate and repeat.
Tea Infuser Mugs
These types of mugs are designed with a complimentary strainer that fits perfectly into the cup.
They are convenient to use and are good when you want to brew a single cup of loose leaf tea. The only thing to clean is the strainer and the cup itself.
I have an article on tea infuser mugs if you are interested: Best Tea Infuser Mug
Tea Infuser Bottles
Portable tea infuser bottles are a great way to bring your tea with you on the go.
You either put your tea in an infuser chamber, or directly into the bottle and have the tea strain as you drink.
Some tea infuser bottles also act as thermoses and will keep your tea hot for many hours.
To find out more, check out The Best Portable Tea Infuser Bottles.
Individual Strainers & Meshes
These are great if you want to steep a single cup of loose leaf tea, but already have plenty of mugs and don't want to buy a tea infuser mug.
There are a number of different designs with these, but most are either stainless-steel baskets with holes or fine metal meshes.
My recommendation for an individual strainer is the Finum Brewing Basket. The mesh is so fine that even the smallest particles will not get through.
Commercial Tea Makers
These kinds of tea makers are what is used in restaurants, hotels, and other food service establishments.
They are designed to brew huge amounts of tea or coffee in short periods of time.
I'm not very well informed on commercial tea makers, but you can view Amazon's selection here.
Electric Tea Makers vs Manual Tea Makers
Electric tea makers are feature packed and will heat your water for you. Many are automated and allow you to pre-program how long the leaves are steeped and the temperature for brewing. A great electric tea maker is the Breville One Touch.
The disadvantage of electric tea makers is price. Plus, more functionality means more can go wrong with the machine.
Manual tea makers are cheaper and easier to clean but require a separate kettle and require you to keep track of brewing temp and time. My favorite manual tea maker is the Teavana PerfecTea.
What to Look for in a Tea Maker
Each electric tea maker has its trade-offs. There is no best machine in every category. You must figure out what is important to you and select the appropriate tea maker.
Some tea makers are jam-packed with features and are highly customizable. These types of tea makers are for people who have a higher budget and want something that will consistently make the perfect brew. My recommendation in this category is the Breville One Touch.
There are other tea makers that have less features, but are not as pricey. They are middle-of-the road overall. Many of these types of tea makers have button preset temperatures instead of variable control and most require you to remove the tea basket once the tea is ready. A good tea maker in this category is the Gourmia GDK290.
And some tea makers prioritize simplicity and ease of use over all else. These types of tea makers are generally more affordable but require a bit more work to get a perfect cup of tea. Examples are the Teavana PerfecTea maker or traditional glass or ceramic teapots.
Another important feature for some people is minimal plastic, especially in the brewing area. None of the tea makers on this list have BPA plastic in the brewing area, but most do have silicone or BPA-free plastic exposed to hot water.
The one exception to this is the Gourmia GDK290. There is a silicone ring at the base separating the glass from the metal heating element, but it is not exposed to water, as confirmed by Gourmia.
Regardless of the type, durability is important. For the most part, the more you pay for the tea maker, the better the construction and overall quality. Each of the tea makers in this list has acceptable build quality. A few are excellent and will last years of use and abuse. My go-to example is the Breville One Touch. Many users have had theirs for 5+ years and still use them daily.
Can You Brew Tea Bags in an Automatic Tea Maker?
Absolutely. If you have a preferred bagged tea that you brew every day, a tea maker can help maximize the flavor.
Tea bags are also easier to clean out of a metal strainer. All you have to do is remove the bag and give the strainer a quick rinse.
And if you decide to experiment with loose leaf tea later on, the transition is simple.
Caring for and Cleaning Your Tea Maker
There is plenty of variability between different tea maker designs, and each requires their own maintenance procedures. Reading the manual is the best way to find out exactly how to care for a new tea maker.
With any tea maker that acts as an electric kettle, the carafe must be hand washed. It is a bad idea to submerge the heating element entirely in water. Most are easy to wash out with a sponge.
You can wash individual all-metal or all-plastic pieces in the dishwasher. This includes lids, tea baskets/infusers, and simple tea makers.
Over time, most tea makers will develop stains around the sides or on the bottom. Here are some tips to keep your tea maker looking brand new:
Cleaning Stains:
Scrub with a baking soda & water paste.
Soak with vinegar and salt for several hours
Give the mug one final scrub and rinse
Tipnut has a more in-depth guide on removing coffee and tea stains if you are so inclined.
How I Picked the Results
In order to select the best hot tea maker, I did exactly what you would do if you had the time and this guide wasn't around.
I started by checking out other buyers guides and exploring their options and opinions.
Then, I took a look at Amazon and Google to find existing popular options and a few less popular ones as well. With this list, I sorted each tea maker into separate categories. I only wanted to pick the best option from each category to make the decision as easy as possible for you.
With a general overview of the options, I sifted through user reviews to see what other customers had to say. I compared the pros and cons of each option and gave my rating and review.
Since all the hard work is done, all you have to do is read the overviews and make your own decision on which tea maker best suits your needs.
Tea Maker Reviews
Gourmia GDK290 Electric Glass Tea Kettle With Infuser
Summary
The Gourmia GDK290 Electric Glass Tea Kettle is one of the more affordable electric tea makers available today, and probably the best value if you are looking for something a little bit cheaper that still has many of the benefits of higher-end models.
Another fantastic benefit of this device is that no plastic comes in contact with water when your tea is brewing. This is one of the few tea makers available today with that feature.
There is a plastic silicone seal around the base of the heating element, but it does not come in contact with water, as confirmed by Gourmia. This seal is necessary for all kettles with a glass wall. Glass and metal have different rates of thermal expansion, and without some kind of padding, the glass would shatter.
Some parts of the lid and most of the handle are plastic, but the spout is metal.
Several customers noted that the device heats water quickly. There is also a keep warm feature, which will keep your tea warm for up to 2 hours after you have finished brewing. No mention was made to the temperature it keeps tea at, but somewhere around 160°F is common for these devices.
If you are a tea enthusiast, you will be happy to hear that the Gourmia GDK290 has variable temperature control. You can set the brew temperature within 5°F intervals to ensure a perfect brew.
One of the potential downsides of this device is the brewing mechanism. A metal tea basket sits at the end of a long metal plunger. When you want to begin brewing, you have to manually push the plunger down until the tea basket is submerged.
This does allow you to control the exact steep time of your tea, but you may have to use something like a kitchen timer for precision.
When you are finished with the device, it is relatively easy to clean. The top lid and plunger come off as one piece and can be either hand washed or put in the dishwasher.
The carafe must be hand washed. A light scrub will do. Since the bottom of the carafe is metal, it can stain easily. Check out the Caring for and Cleaning Your Tea Maker section for some tips on how to eliminate stains.
Overall the Gourmia tea maker is a well-built device that is likely to stand the test of time. If you want an affordable automatic tea maker with no plastic in the brewing area, this device is an awesome choice.
Video
---
Brewista Smart Brew Automatic Tea Kettle
Summary
This little tea maker is relatively new to the market and packs some interesting features. It is close to the Breville One Touch in terms of capabilities for a much lower price point.
The temperature control system is the best of any of the tea makers I reviewed. Not only is it variable with the ability to switch between Fahrenheit or Celsius, you can control the temperature to within 1°. You can really geek out with this thing and find out what difference 3° would make with a cup of tea.
The Brewista tea maker also has a novel brewing mechanism. Instead of submerging a metal basket filled with tea leaves, hot water is pumped up through the handle and showers down onto the tea basket at the top. The tea infuses as water trickles down through your tea leaves.
This type of brewing system can be used for loose leaf tea, tea bags, and even pour over coffee.
One disadvantage of this brewing system is that hot water is pumped through plastic tubing in the handle to get up to the top. No mention is made of what type of plastic is used or if it is BPA free.
If you're like me and enjoy a cup of tea first thing in the morning, you will be pleased to hear that this tea maker has an auto-start feature. The night before, you add water and tea and set a time when you want the brewer to start. As soon as you wake up, a freshly brewed cup of tea will be ready.
The auto-start feature must be pressed every night unfortunately. But if you think about how the brewer works, it makes sense. You are going to have to replace your tea and water every day anyways.
Another disadvantage of the Brewista Smart Brew is that it is not the easiest to clean. The carafe connects directly to the heating unit and will need to be hand washed. It is also recommended to run hot water through the pump every once in a while to keep it clean.
While this tea brewer is a bit expensive, it is loaded with features that more than make up for the price tag. If you want a tea maker that can do everything the Breville One Touch can, but for almost half the price, I recommend considering the Brewista.
Video
---
Mr. Coffee Hot Tea Maker and Kettle
Summary
Of the tea makers I chose to review, the Mr. Coffee Hot Tea Maker was my least favorite.
Let's first talk about what this tea maker does right.
This tea maker from Mr. Coffee has a good build quality. The whole unit is sturdy and well built. It is unlikely to break on you quickly and Mr. Coffee will replace any units that arrive non-functional.
In addition, the whole unit can be used as an electric kettle for oatmeal, hot chocolate mix, instant noodles, or pour-over coffee.
There are built-in features to keep your tea hot for up to an hour and 5 temperature preset buttons to brew your tea at the correct temperature.
Another benefit of this device is that it is relatively easy to clean. The hardest part to clean is the deep metal basket. You can either throw it in the dishwasher or use a bottle brush on it.
Now, onto the downsides.
The steep time and temperature are not programmable. You must use the 5 temperature preset buttons for brewing. These presets will be sufficient for most people, but many of the other tea makers in this price range have more programmability.
This Mr. Coffee tea maker does include a timer feature so that each type of tea gets brewed for the correct amount of time. When the tea is done the machine beeps and you must manually remove the metal basket.
In fact, the machine beeps when the water is finished heating, when your tea is ready, and when the device is turned off. Some customers reported this beeping as incredibly annoying.
There is also a silicone ring inside the brewing area. The Gourmia GDK290 had a similar silicone ring, but it is sealed away. While silicone has been deemed safe for food products, it probably isn't good to continually expose to hot water.
Some users also complained about the plastic ring inside the lid cracking after several weeks of usage.
The Mr. Coffee Hot Tea Maker is a well built machine with some cool features, but my principle complaint with this tea maker is that it is overpriced. It might be a good option if it were half the price. There are simply better options available at this price point.
If you are still interested in this device, it sometimes goes on sale directly on the Mr. Coffee website. Check it out here to see the price.
Video
---
Honorable Mentions
Last update on 2022-11-30 / Affiliate links / Images from Amazon Product Advertising API