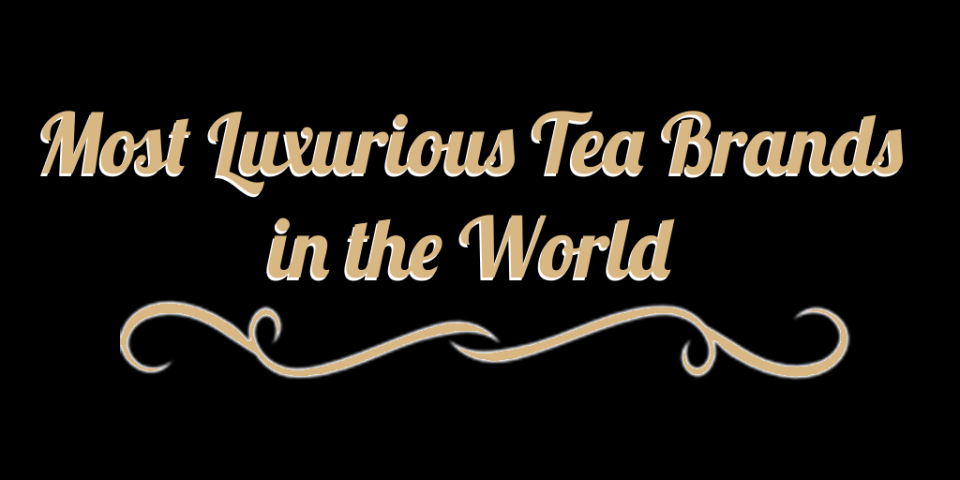 Ever wonder what kind of tea the Queen drinks? I took it upon myself to find out.
Specifically, I wanted to know what the best luxury tea brands are. There are hundreds of different popular tea brands and it can be easy to get caught up in the torrent of options.
To provide myself and you guys a better overview of the options, I spent a couple days researching and came up with a list of the most luxurious brands.
If you don't care to read the details, the best luxury tea brand I found was Harney & Sons if you're in the US or Twinings if you are in the UK.
However:
Everybody has different needs. Check out the comparison table below to find out which option is best for you.
Best Luxury Tea Brand Comparison Table
Loose Leaf Tea vs Tea Bags
When choosing a luxury tea, it can be hard to decide between loose leaf tea and tea bags/sachets/pyramids.
The main difference is that loose leaf tea requires more effort to brew, but taste better. You have to have either a teapot or a single-cup strainer. After brewing, the teapot or strainer has to be rinsed and dried.
A tea bag is easier to steep and dispose of, but it often consists of lower quality tea and twigs that have been ground into dust.
A number of the luxury sites listed above do sell tea bags or sachets with high quality tea. However, another issue with tea bags is they aren't large enough for the tea leaves to expand and brew properly.
Pyramid shaped bags do give the tea more room, but are still not ideal.
So, the question of which you should choose depends on your budget and how much time you want to spend brewing and cleaning.
If you want a high-quality tea to brew up for guests on a special occasion, invest in a teapot and a nice loose leaf tea.
On the other hand, if you want something cheap, quick, and easy for your everyday morning tea, get a box of tea bags or tea sachets. Harney & Sons has a great selection of loose leaf tea sachets that you can check out here.
How to Tell if a Tea is High Quality
As a tea snob, I wince every time I see somebody unknowingly purchase low quality tea.
So, here are a few tips you can use to spot premium tea:
Price isn't always a sure signal, but a cheap bagged tea will usually be low quality.
When you can see large, unbroken leaves, the tea has been taken care of and is likely high quality. There are exceptions. Sometimes black teas are broken up to create a more brisk brew.
Keep an eye out for over-branded tea. Sometimes the most popular tea brands are also the lowest quality.
Buy from a reputable seller. Most tea you buy in strip malls from cheap shops will be low quality.
Check the reviews. Read what other people who have actually tasted the tea have to say.
And a few more tips when buying tea in person:
Look at how the tea is stored. Is it kept in an air-tight container and stored in a cool, dry place?
Smell the tea. High-quality teas will be fragrant and aromatic.
Keep these tips in mind but also listen to your gut. Intuition is one of the best ways to figure out if a tea is garbage or premium.
Best Gift for a Tea Lover
Each tea drinker has their own preferences when it comes to tea. If you know what type of tea they like, you can pick out some loose leaf from one of the brands above.
Otherwise, consider buying them a piece of teaware or tea accessory. The Tea Spot has a unique line of custom developed "steepware" that you can check out here.
I've also written articles taking a look at the Best Tea Infuser Mugs and the Best Portable Tea Infuser Bottles if you'd like to check out my recommendations regarding teaware.
Most Expensive Teas in the World
After researching this topic I became curious: What are the most expensive teas in the world? What does the queen sip during her most special occasions?
Here are the most expensive and luxurious teas in the world:
Da Hong Pao (Big Red Robe) – This tea can fetch as much as $1,200 for a single gram! At a price of 1.2 million for each kilogram, original Da Hong Pao is worth much more than it's weight in gold. Da Hong Pao is heavily oxidized Oolong tea grown in the Wuyi mountains of China's Fujian province. The most expensive varieties are harvested from tea bushes that have been there since the Song dynasty (960-1279 AD) and are under constant surveillance by armed guards. Cheaper varieties of this tea can be bough for much more affordable prices.
PG Tips Diamond Tea Bag – This tea bag is literally encrusted in diamonds – 280 to be exact. At $15,000 per bag, this is the ultimate statement of luxury. It is sold only at Harrod's tea store in London. Read more about it here.
Narcissus Wuyi Oolong – Similar to Da Hong Pao, Narcissus oolong grows in the Wuyi Mountains of China. Vintage varieties go for as much as $6,500 per kilogram.
Tieguanyin/Ti Kuan Yin (Iron Goddess) – Another Chinese oolong grown in Fujian Province. This rich oolong can be brewed many times over without loosing its flavor and sells for $3,000 per kilogram, although there are more affordable varieties.
Yellow Gold Tea Buds – Young buds are clipped from the tea bush once a year and are then sprayed or dusted with real gold. This tea is safe to consume but is not safe for the wallet, selling for $3,000 per kilogram. TWG actually has some available if you're interested. Check it out here.
How I Picked the Results
I started by researching what others had written on this topic, which was surprisingly little.
From there I began compiling lists of what people consider the best tea brands overall. I narrowed this long list down to brands that specialize in luxury teas. Then, I did research on each individual brand to find out which are truly the best luxury tea brands.
This whole process was done painstakingly over several days and took me 10 hours for the research alone.
I belong to affiliate programs for several of these sites. No extra cost is charged to you and I didn't let this influence my brand decisions. I could have chosen to include a number of other decent brands that had affiliate programs instead of some of the non-affiliate brands in this list.
My Reviews of the Best Luxury Tea Brands
Harney & Sons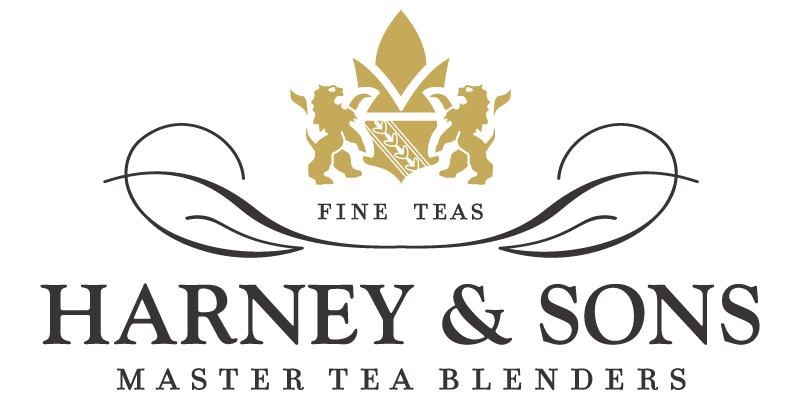 Our Rating: 4.6/5
Harney and Sons is an American tea company founded in 1983. They specialize in high quality loose leaf teas and herbal blends. There are several locations on the East Coast, but they are most known for their massive online store.
If you need high quality loose leaf or herbal blends, these guys are a fantastic choice.
They has a huge selection of loose leaf and herbal teas. Each of their tea categories has sub-categories filled with dozens of options.
Harney & Sons also has tea sachets filled with high quality loose leaf tea. With these sachets, you don't have to compromise quality for ease of use.
And if you have a tea lover in your life, they have tea chests, gift cars, and accessories suited for any occasion.
For the quality that you get, Harney & Sons is incredibly affordable. A 1 lb bag of premium Earl Grey is $24 at the time of writing.
Most of their loose leaf tea falls into the $7-60 range per 100 grams, and tea sachets vary between $o.75 and $1 per bag.
Shipping prices are great as well. All orders within the United States include free ground shipping. Faster shipping is available at higher rates.
International shipping rates vary. Check out their shipping page for more info.
I gave Harney & Sons the highest rank because they are consistently good across the board. Their selection is huge, the tea is high quality, prices are affordable, and shipping rates are excellent.
Twinings
Our Rating: 4.6/5
Twinings is the oldest tea brand in the world and arguably the most well respected.
The company was founded in London, England in 1706 by a man named Thomas Twining. His family was in the weaving trade but he decided to branch out.
Tea was up-and-coming at the time so Thomas Twinning apprenticed under an East India Company merchant named Thomas D'Aeth. After learning the trade, he went into business and opened a tea shop in a prime location. That shop still exists today at 216 Strand in London.
Twinings was granted the British royal warrant by Queen Victoria in 1837 and continues to serve the Monarch to this day.
The Queen drinks Earl Grey by the way. No brand is specified but I wouldn't be surprised if it was Twinings.
Twinings also has an online store with a huge selection of tea bags and pyramids, loose leaf tea, various tea accessories, and gifts for any occasion.
They currently have several lines of tea blends, including English Breakfast, Earl Grey and Lady Grey, and Superblends. Each line serves a specific purpose. English Breakfast includes different breakfast teas and Superblends are crafted for health and wellness.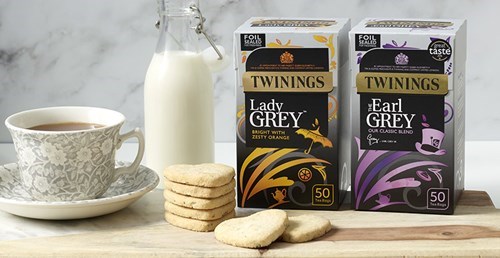 A variety of premium loose leaf teas are also available on their website. They have anything from flavored blends to herbal blends to luxurious single-origin teas. There are even a number of pu'erhs available.
Twinings has a large range of prices and quality on their website, spanning from inexpensive low-quality tea bags to higher end pyramid sachets and loose leaf teas.
You can expect to pay $0.05-0.20 per tea bag, $0.40-0.50 per pyramid sachet and between $10 and $60 for 100 grams of loose leaf.
Most supermarkets only stock their tea bags, so you will have to order online from the Twinings UK website if you want access to their premium teas.
There are multiple Twinings websites for different countries. Each separate site has a different design and selection. The Twinings UK website is the most well designed and has the largest selection.
Shipping will be cheaper if you order from the Twinings site closest to you. If you live in the UK, standard shipping costs £3.95 and ships in less than a week.
Their UK site ships internationally if you want access to the larger selection. Check out their shipping policies here.
The Tea Spot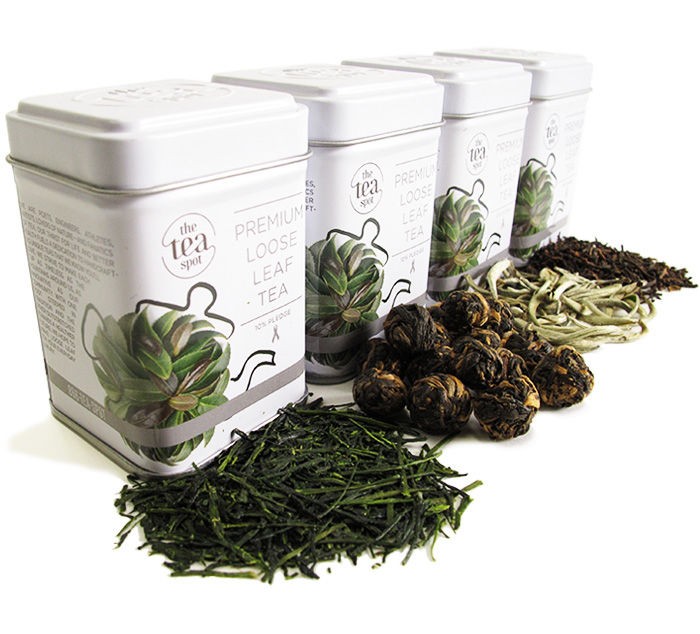 Our Rating: 4.5/5
The Tea Spot is a quaint little tea vendor located in Boulder, Colorado at the base of the Rocky mountains. The company was founded in 2004 by cancer survivor Maria Uspenski.
Maria discovered the health benefits of loose leaf tea as she was recovering from cancer. It is now her life's mission to spread awareness of these health benefits. If you'd like to read more about the health benefits of tea, check out my Tea vs Coffee article.
The Tea Spot donates 10% of all sales revenue to cancer charities.
In their online store, the Tea Spot has a large number of hand crafted loose leaf tea blends available. You can buy these blends alone or packaged in pyramid sachets.
Their tea sachets are large and are made of a biodegradable mesh that is non-toxic and safe for the environment. This is one of the best designed tea bags I've come across.
Besides their tea, the Tea Spot has created a custom line of Steepware to help brew your tea. The selection ranges from tea infuser mugs to tea tumblers and even equipment for making matcha. You can take a look at their Steepware here.
The Tea Spot is middle-of-the-road when it comes to pricing. You can buy 100 grams of their loose leaf tea blends for between $10 and $35 or their large tea sachets for $0.55 to $1.50 per sachet.
They have free ground shipping in the US for orders over $60, and a flat rate of $3.99 for orders under $60. International shipping rates vary. Check out their shipping info page for details.
TWG Tea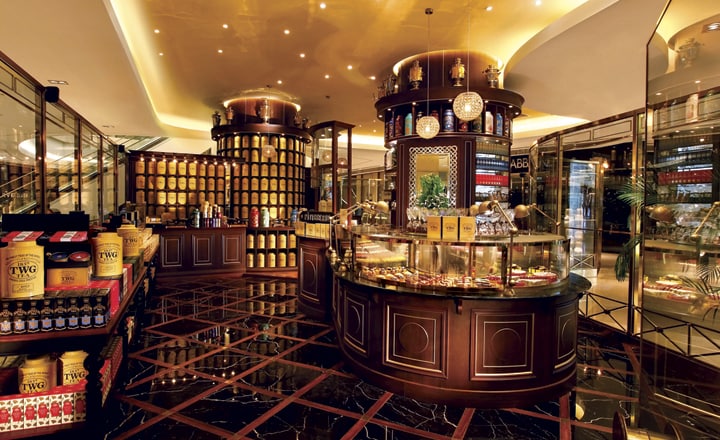 Our Rating: 4.2/5
TWG stands for The Wellbeing Group and is based in Singapore. The company was founded in 2008 as an attempt to create a high-end luxury tea brand.
TWG Tea sells to independent vendors all over the world and have several tea salons and boutiques of their own. Their tea can be found in luxury stores and malls in numerous different countries. In their shops they sell unique blends of tea-flavored ice cream and pastries.
While their boutiques are amazing, I'm going to be focusing on their online shop today. They have a sizable collection of luxurious loose leaf teas, tea tins, and tea bags as well as a number of accessories.
Quite a few of their teas are sourced from what are known as single-estate farms. These small estates focus on growing small batches of premium loose leaf tea. Each estate is different and TWG Tea has a team of tasters that visits these estates to hand-pick the best batches.
TWG Tea also sells beautiful luxury gift sets that would make a fantastic holiday or wedding gift for tea lovers.
While their selection might be amazing, you are paying for the luxury experience. Their prices are expensive and shipping can add up.
TWG's website uses the Singapore dollar. The current conversion is $0.76 USD to every Singapore dollar. You can expect to pay between $15 and $50 USD per 100 grams of loose leaf and $1.25 per tea bag.
No shipping page is provided by TWG Tea but they ship for free within Singapore. US and International rates vary. I live in the Midwest United States and shipping came out to $22 for a medium sized order.
Yunnan Sourcing
Our Rating: 4.1/5
I discovered Yunnan Sourcing from the recommendations of an online tea forum. They are a reputable vendor that sources tea straight from Chinese farms.
They have a huge selection of Chinese whole-leaf teas. Each tea is sold in a batch with the year and season it was harvested, so you can be sure you are getting exactly what you want.
The amount of information provided by Yunnan Sourcing can sometimes be overwhelming to a beginner. One thing that can help is clicking on a specific type of tea, like black tea, and sorting by 'Best Selling'. Reading the reviews of other users on the site is also helpful.
If you are looking for recommendations, here are a few for different tea types:
You can read more about each type of tea in my Types of Tea article.
The price of Yunnan Sourcing's loose leaf tea ranges from $5-30 for 100 grams of loose leaf. This is much cheaper than anything you'd find at a specialty tea shop, even with the expensive shipping costs.
They also sell a number of teapots and various teaware. Their selection ranges from cheap $5 glass teapots to hand-crafted clay teapots in the $150 range.
When buying expensive teaware, don't go with the cheapest shipping option because it can break on the long journey. Yunnan Sourcing heavily wraps all teaware in bubble wrap to protect your items as much as possible.
Yunnan Sourcing has two online stores. Their main store is based out of China and their secondary store is in Oregon. The secondary store ships to the continental US much quicker but the selection is limited.
If you purchase from the Chinese store shipping costs generally go up and can take up to several weeks to arrive. Check out their shipping page for more info.
Stash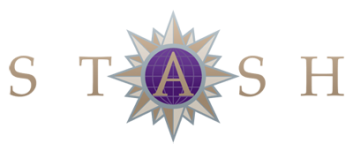 Our Rating: 4.0/5
The name "stash" refers to the captain's personal stash of tea on ships and boats that were used to transport tea around the world.
Stash was founded in Portland, Oregon in 1972 and has since expanded into one of the largest specialty tea companies in the US.
They have a massive selection of tea bags, loose leaf teas, teaware, and gift sets.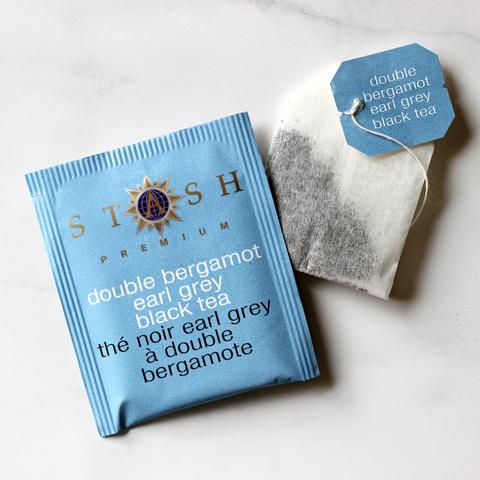 Their tea bags aren't nearly as high quality as a good loose leaf, but are better than most other brands in the same price range. You can find their bags in most supermarkets in the US as well as their online shop.
Stash also has a collection of quality loose leaf blends available online.
The Stash brand is what I would call an affordable premium tea. They may not be the highest quality, but they are high value and make a great choice for an everyday tea.
Shipping is a bit pricey when ordering online. Orders under $25 have a $5 shipping fee and orders over $50 have a $12 shipping fee. Check nearby grocery stores first to see if they have what you want.
It takes 3-8 business days for their teas to deliver within the United States. Canada and international shipping is expensive and not recommended.
Find all their shipping details here.
Honorable Mentions
I intentionally kept this list short to combat decision fatigue.
However, here are some more luxury tea brands if you're interested in exploring all the options. They are listed in order of personal preference: