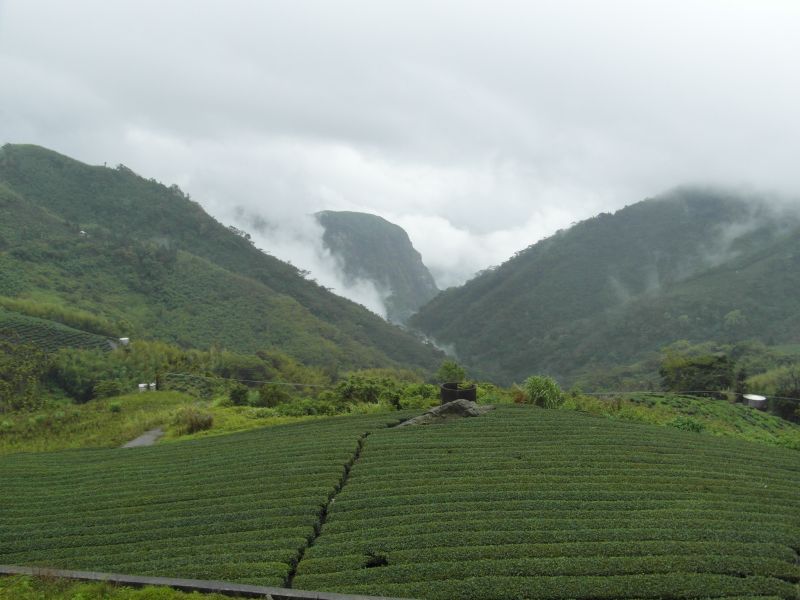 Alishan tea is a high mountain oolong tea grown in the central mountains of Taiwan. It is a relatively new tea to the scene, appearing only several decades ago. Alishan tea originated from the tea estates on Ali Mountain and quickly became popular in Taiwan. It is a slow growing tea and is harvested only twice a year. This slower growth results in a deep flavor that is prized by many oolong enthusiasts.
Besides its deep and complex flavor profile, Alishan tea is known for having a floral and slightly sweet taste to it. The texture is light and creamy on the tongue. This tea is great for multiple infusions and will keep its flavor long after the first steep.
Price of Alishan Tea
High mountain teas are valued for their quality rather than quantity. Most varieties grow slowly and are hand picked only twice a year, making this tea a bit more expensive than most. The steep price tag can be worth it if you love oolong. Many varieties of Alishan tea and other high mountain teas win oolong competitions for their taste.
Compared to other high mountain teas, Alishan is the most affordable. You can expect to pay roughly $8 an ounce for Alishan. The price varies between strains and from vendor to vendor. Some varieties go for as low as $6 an ounce, while others can catch a lofty price of $12 an ounce. Some varieties such as Da Yu Ling oolong mountain tea are grown at altitudes above 2500 meters and average around $20 an ounce. The higher up the mountain a tea is grown, the harder it is to find suitable growing conditions, and the higher the price.
If you'd like to see a detailed write-up on the average price of Alishan tea and other high mountain teas, check out this awesome writeup created by James at TeaDB. I have no affiliation with them but found it to be an excellent resource.
Where to Buy Alishan Tea
Please note that I currently do not have an affiliation with any of these companies.
Most sizable tea vendors will carry high mountain teas and a number of them have Alishan tea varieties. The best balance between reliability and price is this Superfine Ali Shan Oolong Tea by Teavivre which goes for $6.50 an ounce as of the writing of this article. Adagio also carries a Formosa Ali Shan variety but it is quite a bit pricier at $9.80 an ounce.
If you want to buy straight from a Taiwanese vendor, check out the selection from Taiwan Tea Crafts. Their prices vary depending on the strain and batch, but you get free shipping on orders over $25. Keep in mind that international shipping takes much longer than buying from a domestic tea provider.
High Mountain Teas
High mountain (gaoshan) teas are oolong teas that grows above 1000 meters in the mountains of Taiwan. Different varieties grow at different altitudes with some overlap. Alishan tea is generally grown between 1000 and 2300 meters. There are several other varieties of high mountain oolong such as wu she, li shan, yu shan, and da yu ling.
Growing Region
Most high mountain teas are grown in either the Nantou or the Chiayi counties of Taiwan. Both of these two counties are within Taiwan's central mountain region. These regions used to be known for their orchards. Plums and other fruits were grown in these regions until it became more profitable to grow tea. This likely happened when trade routes were developed with the Dutch. There are still a number of plum orchards in the area and this may help contribute to the sweet complexion of Alishan tea.
Ali Mountain
Alishan tea is relatively new to the scene of high mountain oolong teas and became popular in the last several decades. Alishan tea originated on Ali Mountain in the Chiayi county of Taiwan. This mountain has beautiful natural scenery and is a tourist hotspot. Ali Mountain is also home to a system of gauge railways build by the Japanese to help the Taiwanese transport tea and other items through the mountains.
Growing Conditions
The reasoning behind growing teas at a higher elevation is that the thinner atmosphere makes tea grow slower. A slower growth allows nutrients and other flavor compounds to become more concentrated in the leaves of the tea. When brewed, these flavors come out of the leaves and result in a delightfully complex flavor.
This slower growth of high mountain teas puts an emphasis on quality over quantity. Most high mountain oolong teas are hand picked twice a year in the winter and spring. This lower quantity of production results in a more expensive tea.
Another benefit of this growing region is the high humidity and precipitation. Many of the mountains on which tea is grown are always covered in fog. The tea shrubs have a cool and always damp environment in which they can flourish.
Cultivation & Processing
Once the tea leaves have developed, then are hand picked and placed on a large collection mat. After collection they are lightly rolled to bruise the leaf and allowed to sit for 8 hours. This rolling breaks down the tissues of the cell and starts the oxidation process.
The final step of producing the oolong is to lightly roast the leaves. This roasting stops the oxidation process and prevents the tea developing into a black tea. The roasting also helps caramelize the leaves and adds subtle caramel notes.
If you're interested in how different types of tea are processed, check out this guide by World of Tea. I find myself referencing back to it from time to time. In the article, oolong tea is refered to as Wulong. They are essentially different names for the same thing and have to do with Chinese translations.
Health Benefits of Alishan Tea
Alishan tea is an oolong and shares many of the health properties of other oolong teas. It contains moderate levels of both polyphenols and caffeine. This combination may help with fat burning by increasing metabolism and suppressing appetite.
Antioxidants
It has moderate polyphenol and antioxidant content. More than a black tea but less than a green tea. This has to do with its oxidation level. The more oxidated a tea, the less its overall antioxidant content. The antioxidants in tea can help fight free radicals and other volatile compounds within the body. Free radicals have been shown to cause a number of forms of cancer and tea may help reduce the presence of these compounds.
Vitamins and Minerals
There are trace amounts of different vitamins and minerals in tea, but most of these are below 1% of your recommended daily allowance. The only mineral with a notable concentration in oolong tea is manganese. Each cup of oolong tea contains a little over a gram of manganese, giving you 25% of your RDA.
Caffeine in Alishan Tea
Alishan tea has a moderate caffeine content of about 40 mg a cup. The more oxidized a tea, the higher it's caffeine content. Green tea has very little caffeine and black tea has quite a bit. Oolong has a moderate amount. If your caffeine tolerance is low, a cup of Alishan will give you just the right burst of energy without making you jittery. But consult your doctor if you have existing heart conditions.
Alishan Tea Taste & Color
Alishan tea has a slightly sweet and floral flavor. It has a pleasant aroma similar to jasmine or rose. Some varieties may also have a milkiness and creaminess to them. When brewed it has a pale yellow color, with each subsequent infusion getting lighter and lighter.
The tea strain, nutrients in the soil, elevation, and climate all play a role in the taste of a specific variety of high mountain tea. The Gold Lily variety of Alishan tea is sought after for its milkiness. In contrast, Alishan Zhulu has more of a sweeter flavor with floral notes and hints of fruitiness.
Because of the slow growth of Alishan tea, it has a much more dense flavor profile than most teas. This density of flavor found in Alishan tea allows it to fare well through many infusions. If brewing Gong Fu style, it may take a number of infusions to get the optimal flavor from the tea leaves.
How to Brew Alishan Tea
All high mountain teas are hardier than most and will take a slightly longer infusion to get all the flavor out of the leaves. I have provided brewing instructions in both the traditional Western brewing method as well as a Gong Fu brewing method. Both methods require water that is 195° F or 90° C. I recommend the Bonavita electric kettle for brewing, but if you are using a traditional kettle you can use a food thermometer. Buying through that link helps support the site. Another method is to bring the water to a boil and let it cool for 60 seconds.
Western Brewing Instructions
Heat a kettle of water to 195

° F or 90° C.

Measure out 1 teaspoon of Alishan tea for every 8 oz/250 ml of water.
Steep for 3 minutes.
Remove tea and enjoy!
You can likely get a second 4 minute infusion out of leaves.
Gong Fu Brewing Instructions
Heat a kettle of water to 195

° F or 90° C.

Measure out 3 teaspoons for every 8 oz/250 ml of brewed tea.
Optional: preheat your teapot with warm water.
Steep leaves for 60 seconds for first infusion.
Optional: use this first infusion to rinse & warm your teacups.
Steep leaves for 30 seconds on second infusion.
Pour infusion into fairness cup and then into each teacup.
For each subsequent infusion, add 30 seconds.